Just North of Toronto, the La Cloche Silhouette Trail in Killarney Provincial Park offers one truly amazing multi day backcountry hike. The 80km trail is unforgiving, rugged and worth the effort. The bright quartzite peaks gleam under the sun, and provide a beautiful contrast to the windex blue lakes. Deciduous trees are a plenty, which makes it a great fall camping adventure.
Getting Started
On a good day, the commute is around 4.5 hours north of Toronto. The La Cloche Silhouette Trail starts and ends at the George Lake Campground, but it is close to a 20 minute walk across the campground. Parking closer to the finish might be in your best interest, as normal people will want their last day to be as short as possible. Choose your direction wisely, as the elevation chart below points out the trail is significantly more challenging while you are hiking through the La Cloche Mountain Range.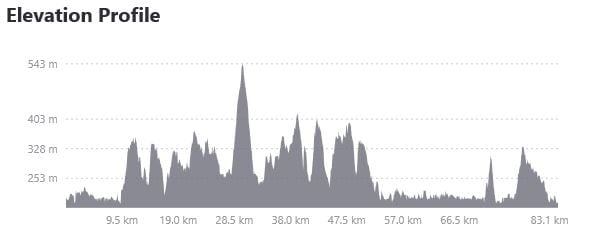 Navigation
Trail markings are colour coded to distinguish between side trails, campsite access, and the La Cloche trail. In addition to the trail markings, there are also giant rock piles that hikers have added to help blaze the trail. Even with all the markings, rock piles, and three sets of eyes, we still went off course a bunch of times. Downloading an offline map is super handy for getting back on course. One option is Gaia GPS, Another option is AllTrails. Unfortunately, you will have to pay some money to download the offline maps.    
Finding water was a bit challenging, so plan your stops ahead of time if you have some big days planned. I have been using the Sawyer Mini, and feel fairly confident dipping it into almost anything, so far so good. After water, the next thing to think about is your feet. If you get blisters like me, you might want to wear two pairs of socks, and lube your feet to avoid hot spots. Nothing worse than twisting an ankle halfway, so please watch your footing. Of course, on day two it rained for the entire 7 hours of hiking. We bailed on the slick rocks close to six times between the three of us. When it gets wet, watch out for those dark slimy rocks.
Wildlife
We heard a moose walking through the marsh before sunrise. One passerby mentioned they came across a family of black bears. Thanks to the wet weather, the number toads along the trail was crazy. Night two at Threenarrows, I forgot to remove an empty wrapper from my backpack, and we ending up hearing a mouse beside our tent side for most of the night.
Route
The park recommends tackling the trail in 7-10 days, which is around 12-8 km a day. Eric Batty completed the entire 80 km loop in 9 hours and 25 minutes alongside Ryan Atkins. There at least another dozen times on Strava, where the trail was conquered in one day. Regardless, if you go max speed or relax mode, you have signed up for some suffering, so why not tackle the 2nd highest peak in Ontario. Silver Peak is a 2 km hike up 300 meters of elevation. It doesn't look much higher thank the other peaks, but it is that spike in the elevation chart. Great trail!  
Shortcut or Swim
If  you are feeling a bit rough, and are in need a 3 km short cut. Its easy to cross the dam 1 km north of Topaz Lake. Lots of boaters enjoy parking at the Pool so they can hike into Topaz Lake. Whisky Jack lake is another Windex lake close to the trail, but you will have to bushwhack to find one of the clearest lakes in the park.
Campsites
We camped at Silver Lake and Threenarrows Lake. The La Cloche sites have to be called in and can't be booked online. Bookings for Ontario Provincial Parks are available five months in advance. The difficulty of the trail and the weather can sometimes cause people to unexpectedly alter their campsite schedule. You never know when the weather is going to peak, but early fall camping is a pretty safe bet. If you have the right sleeping bag, then maybe consider visiting the last two weeks of September or the first two weeks of October for a glimpse of Killarney when the Autumn Colours Peak.
FKT and Similar Trails
The La Cloche Silhouette Trail is one of the biggest adventures you can undertake in Ontario. The Fastest Known Time of 9 hours by Ryan Atkins is mind boggling. If you like to go fast and enjoy a sufferfest, then putting down a fast time on this trail is super fulfilling. Another awesome Ontario trail system is the Frontenac Trail System which includes 160Km of trail. 
Look at Elevation Before Choosing Route
Amazing View from The Crack
Pretty Great View on Top of Silver Peak
Go for a Swim in Topaz Lake