Way off the beaten path in Saskatchewan is Grasslands National Park. North of the Montana/Saskatchewan border are two pockets of undisturbed mixed grass prairie. The bright green, yellow and blue grass blankets the rolling hills providing a sanctuary for wildlife. Bison, antelope and deer can be seen everywhere. The habitat is visited by a variety of birds and is home to the black tailed prarie dog, which can only be found in the Frenchman River Valley. Driving through the park will provide a glimpse of the habitat, but travelling via the backcounty via a trail will offer the best perspective.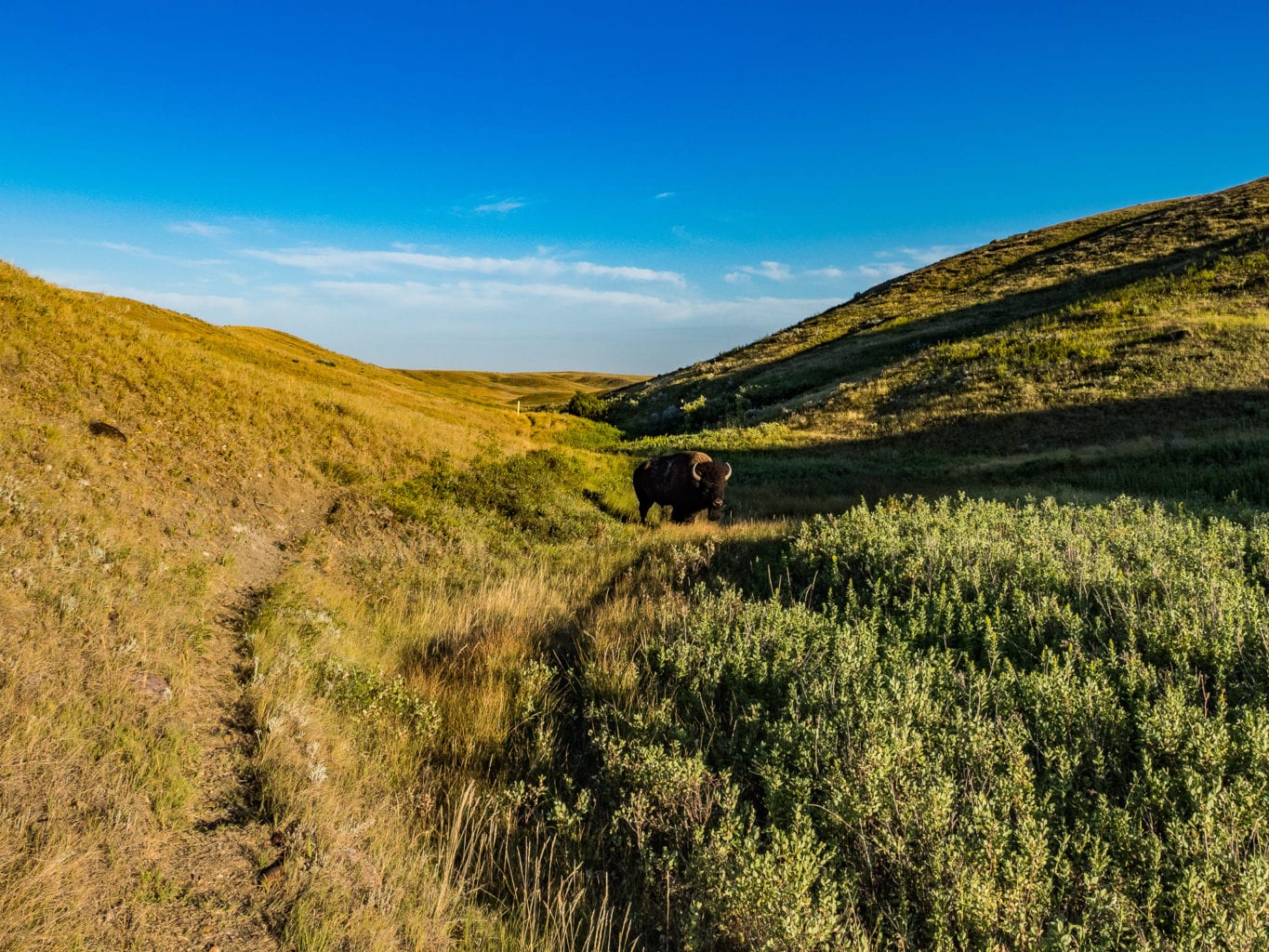 Route
The trail is a bit tough to navigate as some of the markers have fallen over, or they are just really hard to locate. Strongly recommend bringing an offline map of Grasslands to stay on course. The trails are only about a foot wide, which seem to quickly disappear under the tall grass. Give yourself 3 to 4 hours to navigate and stop for photos/wildlife. The trail is blazed by 3 feet high wooden posts spaced about about every 300 meters. 
Herds, Antelope and Colours
It only took 10 minutes to find a bison hoofing its way down the Eagle Butte trail. Even better, just over the next hill was a giant herd 100 strong. Truly awesome, to see them running through the fields. Spotting antelope was a little tougher, as they prefer to keep their distance. Two prairie dogs provided a wonderful wake up call, when they came to inspect my tent at sunrise. Don't let the wide open spaces fool you, there is wildlife everywhere you turn in Grasslands National Park. The wide variety of colours were the complete opposite of what I expected from Saskatchewan, and was the main reason why this park is such a nice surprise. 
Tee-Pees, Signal and Nearby Dinosaurs
The park offers a few accommodation options for those who want to stay a while. The Tee-Pee sounds pretty interesting or there is your standard front camping options. Cellular signals were absent on my into the park, so make sure your GPS/directions are on point. If you are heading west after your visit, the drive through the Canadian Badlands in Drumheller is something worth considering.